AHW 2017 - An OT's Perspective
Author: Jo Shelswell Date Posted:17 March 2017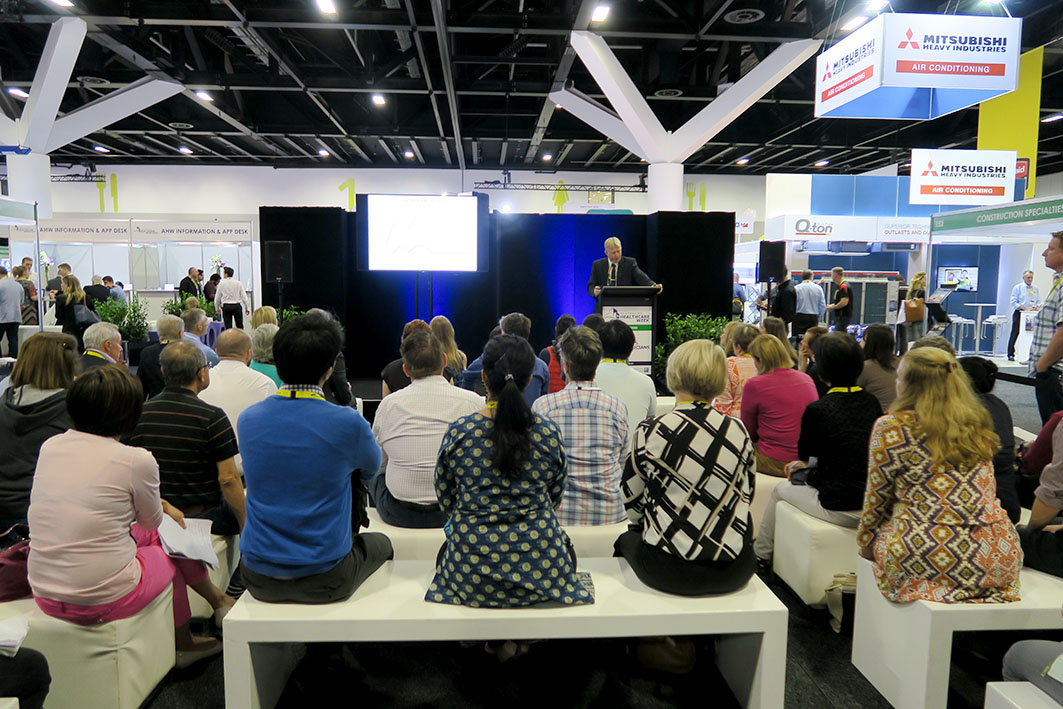 Australian Healthcare Week was held in at the International Convention Centre (ICC) in Darling Harbour March 2017. Active Mobility held an exhibit at the largest event in the healthcare industry to provide advice around equipment for professionals working with individuals with aging and disability needs and/or concerns.
As an Occupational Therapist working with Active Mobility I was able to attend two days of conferences on Aged Care. Presentations covered a range of topics from; Consumer Directed Care in Aged and Community Care, Designing Dementia Friendly Communities, Digital Enhanced Living and Creating Aged Friendly Community Living in an Urban Environment. The speakers not only completed presentations but participated in panel discussions and interactive round table discussion groups. The conferences also allowed for speed networking and opportunity to explore the various exhibits.
From the conference I learnt about different healthcare models such as the Buurtzorg home care model, De Hogeweyk (both from the Netherlands) and the Butterfly Household Model of Care (developed in the UK).
The Buurtzorg or 'neighbourhood care' model is based around person empowerment by making the most of the persons existing capabilities, resources and environment and emphasising self management. This model employs Registered Nurses who self-organise without a management structure and hierarchy. While the cost per hour is higher the overall cost has proven to be 40% less than comparable home care organisations as the overall number of care hours per client is reduced.
De Hogeweyk has a specifically designed village in the Netherlands for older people with dementia. This village community has people living in lifestyle groups with a maximum of 7 people in each group house and all residents of the home share similar interests and backgrounds. The village includes a pub, restaurant, theatre, supermarkets and other common village activities which are used not only by the village residents but the local community.
The Butterfly Household Model of Care is a model of dementia care and has been piloted in 3 group homes in Australia. This model has been noted to be controversial as the carers are trained to join the people with dementia in their reality and engage with their memories rather than trying to bring them back to the present. It is thought that by using this approach the carers are satisfying the person's emotional needs which in turn can reduce their anxiety and stress to improve their well-being. Results are indicating that this approach can decrease the amount of anti-psychotic medications over time, reduce falls, assist with weight gain and reduce hospital admissions.
There has been a definite shift away from 'institutional' and 'hospital' looking group home living with more of a 'homely feel' being incorporated into the building design and furnishing. The new Consumer Directed Care (CDC) model of homecare first introduced to all new Home Care Packages in 2013 and since July 1, 2015 both new and existing Home Care Packages are delivering the CDC model. Similar to the National Disability Insurance Scheme (NDIS) individuals on Home Care Packages have more say in the care and services they access, choice in how the home care services are delivered, choose your preferred care provider, choice and understanding how the Home Care Package funds are used and they can be reassessed should their needs change. But there is also being new technology developed and old technology being adapted for a new application to support people in their own homes longer. Motion sensors are being trialled in homes in Sydney to monitor and report on falls, changes in behaviour, medication compliance and more, so watch this space.
Please have a look at the mentioned healthcare models as we may be seeing these implemented more and more to our aged care facilities. And I strongly recommend that anyone working with an aged population group to read Alzheimer's Australia Dementia Language Guidelines that addresses discriminatory language that is unfortunately still commonly used when describing dementia and the people living with the condition.
---
Leave a comment