10 Tips For Mobility Scooter Safety
Author: Nicholas Sutedja Date Posted:8 February 2018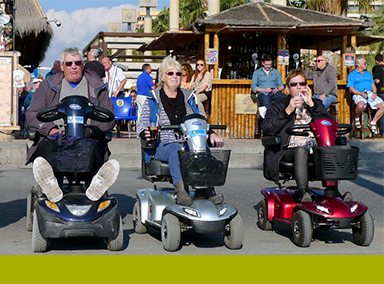 For those living with disability the mobility scooter might be the only way to meet those people; however although mobility scooters needs to be respected by pedestrians and drivers just like any other vehicle it's a two way street.
Mobility scooter users also needs to be mindful of other people around them and to take care and attention to the safety of both themselves and those around them.
Below are some tips to help make every trip a safe and enjoyable one:
Ensure that you do need a mobility scooter. Some people might not need it and it all depends on your doctor or occupational therapists so ask them before you consider buying a mobility scooter.
Choose the right one for you. There is no magic scooter that fits everyone, we are all unique and our circumstances are also unique. Here in AMS we have experienced sales reps that can help you choose the right scooter for you.
Always stay visible. Buy flags, lights and reflectors so that people around you can see you and know that you are there.
Never assume people/drivers have seen you, take extra care when vehicles are leaving and entering driveways or when approaching intersections.
Mobility scooters are designed for footpaths so use footpaths, only go on roads when there are no other ways and even then you must obey all road rules and be aware of your surroundings.
Approach ramps and kerbs head on, don't try to go at an angle as that will risk the mobility scooter tipping and you falling over.
Don't take on too many items onto the mobility scooter, keep the load down.
Have a backup plan in case things go wrong. Carry with you a spare tube in case your tyres deflate and make sure that your batteries are always fully charged.
Service your scooter annually to make sure that everything is okay and able to be used. Our service and repairs department in AMS can help you do that and our experienced technicians can detect any problems should any arise.
Use common sense and drive safely.
With these tips in mind you're all set for the trip. If you need to purchase a mobility scooter feel free to look through our extensive scooter range from leading brands such as Pride and Invacare.
---
Leave a comment