Final Seminar Of 2018!
Author: Nicholas Sutedja Date Posted:16 October 2018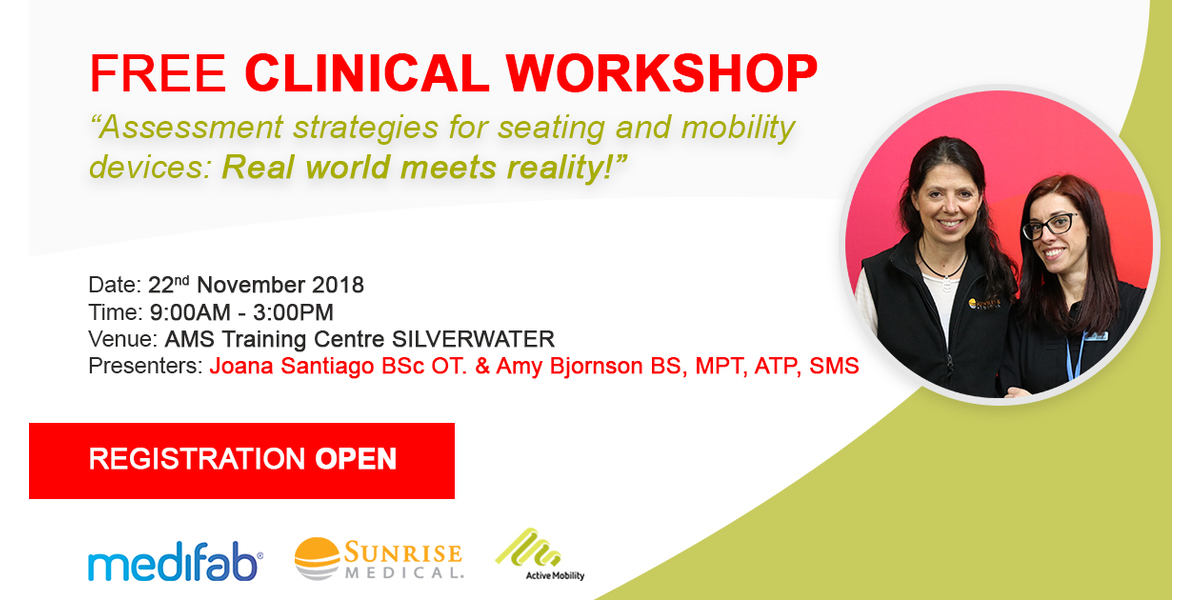 2018 has been a year full of seminars and events that AMS has hosted here in our Silverwater showroom. From learning about manual handling by our very own Roland Hutchison and Jo Shelswell to learning about the very new beds by Novacorr. But now as 2018 draws to a close Active Mobility Systems is proud to host one last seminar by Medifab and Sunrise Medical.
Don't miss this fantastic opportunity to hear from international presenters with years of clinical experience.
On this intermediate level workshop, Amy and Joana aim to support therapists in developing assessment and prescription strategies to address postural and wheelchair mobility needs of the adult population. They will take the process from the beginning including client assessment, postural mat evaluation and discuss possible solutions to address abnormal postures. They will then translate that information into product prescription and set up. The learning process will be facilitated by hands-on moments and analysing real case studies.
If this sounds like a good opportunity for you to expand your knowledge, improve your clinical assessment and prescription skills, and ultimately build up your confidence, book your place now!
Joana Santiago
BSc OT. Medifab Clinical Education Manager:
Joana Santiago completed her training in Occupational Therapy in Portugal in 2004. She is passionate about Seating and Positioning and understands how comprehensive postural management a strong influence on functionality can have, health and the ability to lead a positive lifestyle.
Joana's initial clinical experience enabled her to work closely with a diverse range of clients including those affected with neurological and traumatic injuries. Joana also has extensive experience working for a European supply company, assessing and supplying a wide range of Assistive Technology including aids for daily living, mobility, complex seating and positioning equipment. With a hands on and flexible approach, Joana takes pride in her ability to reach good clinical outcomes by considering the individual, cultural and social needs of those she works with. Over the past 10 years Joana has worked within the industry in 5 different countries around the world and is excited to now be based in Australia as a Clinical Educator for Medifab, where she is able to have a positive influence on the development and supply of their extensive range of products.
Joana has presented internationally, including at the European Seating Symposium, Oceania Seating Symposium, Asia-Pacific OT Congress and Canadian Seating and Mobility Conference and throughout Australia at in-services to seating clinics, ATSA Independent Living Expo, Assistive Technology Conference of Queensland (ATQ) and Australian Assistive Technology Conference (ARATA).
Amy Bjornson
BS, MPT, ATP, SMS. Sunrise Medical Clinical Education Manager – Asia Pacific:
Trained as a Physical Therapist in the United States, Amy has over 20 years' experience working with the adult and paediatric neurologic populations, with specialities in the treatment of spinal cord injury, and evaluation and provision of assistive technology for clients with physical challenges. She was the director of the Seating and Mobility Clinic in Boston, MA USA and provided consultation services to the United Cerebral Palsy Foundation. Based in Sydney, Amy currently develops and implements national and international training programs on using Assistive Technology to enhance inclusion, health and well-being in those with physical disabilities. She also serves a product improvement and development role for Sunrise Medical, Australia.
Amy focuses on providing sound solutions that create positive results, even in challenging environments. She consistently implements innovative ideas focused on improving the lives of people with disabilities. She recently spearheaded foundation of Australia's chapter of GoBabyGo, a charitable organisation dedicated to early mobility for very young children. Amy is a dynamic speaker who has lectured extensively on seating and mobility, wound management and the physical therapy treatment of spinal cord injured clients. She has also travelled to several developing countries, learning and sharing information with their medical communities.
Amy received her ATP certification in 1995, SMS certification in 2015 and is a friend of NRRTS and a member of RESNA. She is an active member of Wheelchairs for Humanity and Health Volunteers Overseas.