NEWCASTLE: Pressure Care and Mattress Selection
Date Posted:10 April 2024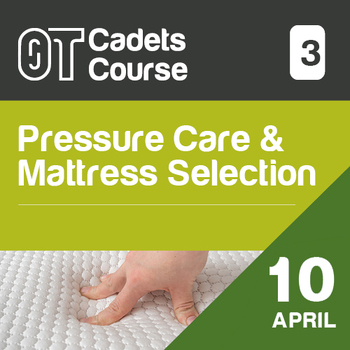 Join us for the third insightful and informative professional development (CPD) series "OT Cadets Course'* as we delve into the essential topic of pressure injuries and their prevention.
Occupational Therapy intervention, management and prevention of pressure injury plays an important role in a client's overall care management, comfort, and mobility. Anytime we lie or sit down in the same position for a period of time, pressure is applied to different parts of the body. Any object that has continuous contact with the skin has the potential to cause a pressure injury.
The purpose of Pressure Care is to maintain the health and integrity of the skin and to prevent breakdown and the development of pressure ulcers. In this insightful and informative seminar, you will learn about the risk factors that make an individual more susceptible to developing pressure ulcers, changes in skin condition to look out for and how to position individuals to reduce pressure.
This seminar will also explore the latest research methods to combat pressure injuries, the causes and progression of pressure injuries and how they influence your clinical justifications. You will also delve deeper into different pressure care support surfaces and examine how these products provide optimal pressure care and comfort as well as prevention from pressure injury.
This seminar will assist you with:
• Understanding skin care management and the causes of pressure injuries.
• Product knowledge of pressure care mattresses and its use in the prevention and care of pressure injuries
• Confidence in the assessment of posture, quality of transfers and functional ability.
• Confidence in assessment skills, clinical reasoning and decision making.
Date: Wednesday 10th April 2024
Time: 10AM - 12PM
Venue: Active Mobility Showroom
Presenter: Bradley Fowler
CPD Points: 2 CPD Points