NEWCASTLE: Speers Point Park Play Day
Date Posted:8 July 2022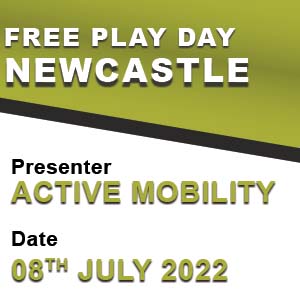 Power wheelchair or power add on? That's the question that our mobility team will answer for you at our wheelchair play day at Speers Point Park.
POWER IN THE PARK:
POWER WHEELCHAIR PLAY DAY
DATE: 8TH JULY 2022
TIME: 11:00AM - 2:30PM (ATTEND ANYTIME)
VENUE:

S

PEERS POINT PARK
Power Wheelchair or Power Add On?
That is the question.
There are differences between the two however, are you confused as to what they are?
When is it suitable to prescribe a power add on? What situations is a power add on not so suitable for? Does a power wheelchair fit in to the lifestyle of your client? Or perhaps you want to know more about power wheelchairs in general?
Whatever your burning question is, we have the answers for you!
Join us in the beautiful surrounds of Speers Point Park for a hands-on, fun-filled wheelchair play day! This is where you get to sit in the wheelchair seat and see, test, feel the differences for yourself. Don't let us just tell you!
Our Occupational Therapists and Wheelchair experts will take you through everything you need to know about power wheelchairs and power add on's and will be on hand to answer any questions you may have.
Plus, you can enjoy a BBQ lunch on us!
So, what are you waiting for?

Register now!
Note: If the weather does not permit the event we will postpone the event to a later date.