Manual Handling Equipment
Author: Kristina Magathova Date Posted:21 September 2017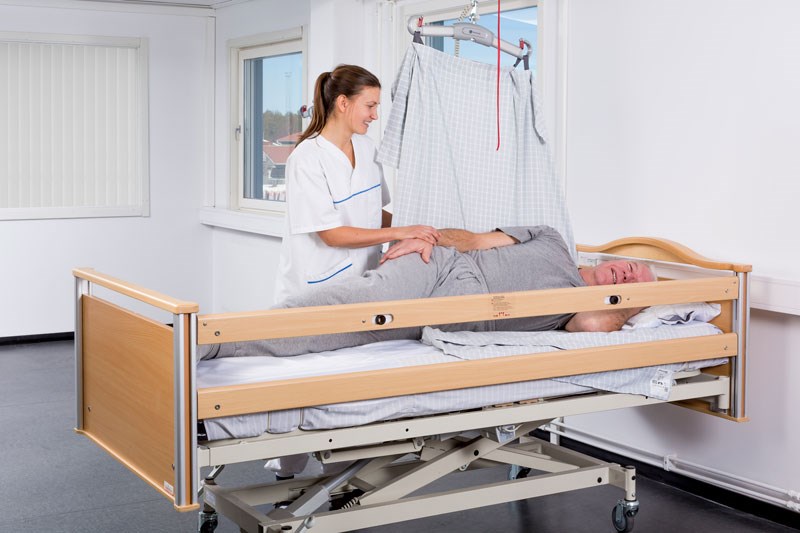 Older people depend on their carers to assist them to move, transfer safely and with dignity. It is necessary for carers to develop the skills to use manual handling equipment efficiently and effectively.
Patient handling equipment is essential for the safety of both, clients and carers, and improves the quality of client's care. Patient handling equipment is a core component in effective patient moving and handling. However, providing equipment without proper training and correct techniques might indicate danger for patient and carer. To reduce the risk of injuries it is necessary for carers to undertake manual handling training in how to use specific equipment for lifting, transferring and repositioning clients.
Correct use of equipment is essential for clients and carers. It can improve quality of life for patients and reduce risk of injuries (back problems) for carers.
Common types of manual handling equipment
Sliding Sheets – Comfortable and functional slide and drawsheets for easy transfer. Join us for the Manual Handling Seminar
Transfer belts – Provide patient support and reassurance during manoeuvre
Transfer boards – Provide transfer from chair to chair, chair to bed or bed to chair
Air-assisted transfer devices – Emergency lifting cushion designed to lift a person from the floor to an elevated sitting position
Electric profiling bed – An electrically operated bed that has a mattress platform split into 2, 3 or 4 sections, which allows adjustment using a control handset or panel
Mobile hoists– A hoist with wheels that can be moved along the floor – used for lifting a client inside a sling or on a stretcher designed for use with hoists
Ceiling hoists – A hoist attached to permanently mounted ceiling track that moves a client inside a sling. Gantry hoists have overhead tracks mounted on wheeled frames
Slings – Lifting support used for carrying a client while moved in a hoist. (Check lifting slings)
Stretchers – Transfer stretcher (lying position). The inclined ends of the stretcher ensure the patient's comfort during their immersion. Its design allows access to all medical baths, and a large width for total safety during transfer.
Wheelchairs – A mobile power chair used for transporting a client in a sitting or upright position.
At Active Mobility Systems, we have extensive experience in the delivery of manual handling training for carers, therapists and support staff. We are happy to provide training to individuals or whole organisations.
Join us for the Manual Handling Seminar:
---
Leave a comment