Our Clients: Jan Daisley - Founding Member Of PWDA
Author: Nicholas Sutedja Date Posted:20 March 2018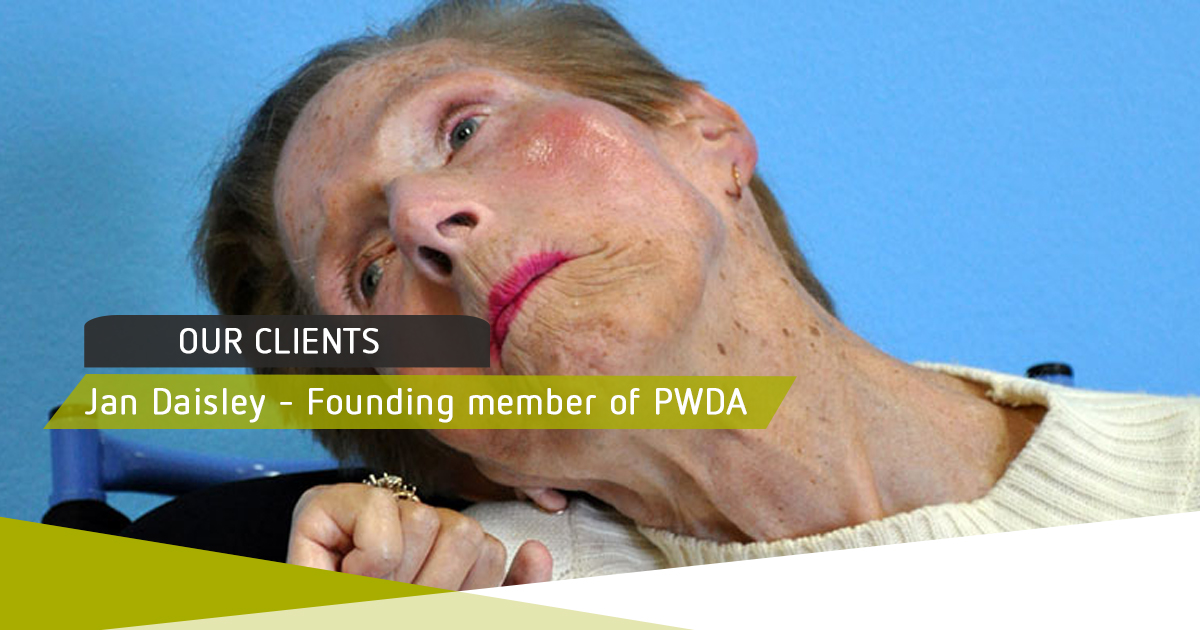 Disability advocates are an important part of the disability world. These are the people that push for changes in the government to better help those living with disability so that they may live a fulfilling life that is full of dignity and respect.
The greatest of these advocates was Jan Daisley, a founding member of People With Disability Australia (PWDA) who passed away last year.
Her story began when during a routine medical procedure she suffered a cardiac arrest which resulted in severe physical impairment. This included speech impairment, spastic quadriplegia and loss of sight. Her parents were advised to "put me into a Home and forget about me as I would never amount to anything".
However she fought to have her voice heard and fought against the authorities. Her first fight was when she was going to be taken out of rehab as people believed that she was "a waste of time and a strain on the system" and that there were others who needed the bed.
Her father argued against the social worker who then contacted his superiors and told them that she would remain at the rehabilitation centre until such time he decided she was ready to be discharged.
Afterwards she was then moved to an institution where, along with a group of other people, she petitioned to have various changes made there. This included abolishing an 8PM curfew, locks and keys on their wardrobes and starting both a Residents Committee and a Bus Committee to allow the residents more freedom and choices in what they wanted to do.
Her biggest fight while staying at the institution was allowing the usage of electric wheelchairs. The staff at the institution did not allow the residents to use electric wheelchairs citing that there were concerns about safety to both the residents and the staff.
The residents contacted A Currents Affairs who helped them film a documentary called 'Captives of Care', which was filmed at Lane Cove National Park and other locations; in fact the documentary was based on a similarly titled book written by John Roarty, a member of Jan's group.
When the documentary was aired on TV the institution told them that if they didn't like the situation there they were free to leave and find other places of accommodation. Jan called their bluff and eventually electric wheelchairs were trialled under strict conditions…now it's become a common sight among the institution.
Jan soon left the place and moved into the community. She studied at TAFE where she obtained her certificates in disability and law before getting her Bachelor of Education in Habilitation then a Masters in Communities in Social Justice.
She also wrote and published three books; her autopbiography, "I hear more than you see", the sequel, "Rebels with a cause" and a book about her experiences with disability support workers, "The Good, The Bad and The Unbelievable – Carers I have Known".
Before long she was nominated for the Board of People with Disability Australia (PWDA) and elected in 2007. Over the years held various positions in the organisation from Director, Treasurer to Vice-president and then President from 2010 to 2012.
In 2004 she spoke with The Australian where she said that she had "no regrets" about moving out from the institution.
"Sometimes things can be difficult, but that's life no matter where you are," Daisley said.
"When I decided to move into the community, most people were sceptical of my survival and even said I would be begging to go back after a week or two. Boy, have I proved them wrong! I have made a life for myself above and beyond even my wildest dreams."
In 2008 she was a finalist for the 2008 National Disability Award.
A spokesperson for PWDA said a key part of her activism was her belief that everyone had a right to adequate housing and social support.
"She saw these as fundamental human rights as outlined in the UN Convention on the Rights of Persons with Disabilities. Putting people with disability in institutions is a breach of these rights – Jan campaigned long and hard for people with disability to have the same housing options as other members of the community," the spokesperson said.
On her website Daisley said she achieved more than she thought. She said, "No one ever thought a blind, speech impaired quadriplegic could rise above numerous obstacles in their life including cancer to become the person I am today.
"When I first acquired my disability the supports which are around today were not available, that is why I was determined to become an advocate for people with disability, so they don't experience the hardships which I had to endure along the way.
"I believe my experience and knowledge on disability holds me in good stead to advise and assist others who are experiencing difficulties in their communities. If I am able to help one or two people to become more independent and gain a better quality of life for themselves, then all the hardship and struggle I have experienced over the years will make it all worthwhile."
Jan Daisley was also one of Active Mobility's valued clients. We sorely miss her and thank her for all she has done to help people living with disability live a better, fulfilled life that is full of dignity and respect.
---
Leave a comment