FREE HALF DAY WORKSHOP! Power To The People: Power Mobility with Amy Bjornson
Date Posted:23 July 2019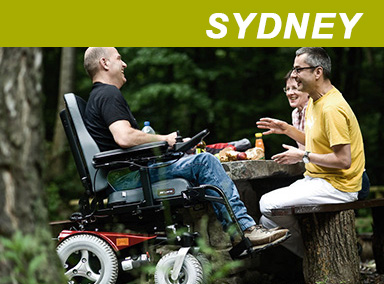 Join Amy Bjornson, PT, ATP, SMS, Physiotherapist and Active Mobility for a quick, half-day workshop on complex mobility seatings and learn more about how to deal with complex mobility issues.
SILVERWATER WORKSHOP
power to the people: power mobility
SO MANY OPTIONS AND CONSIDERATIONS
COMPLEX SITUATIONS REQUIRING UNIQUE SOLUTIONS
WITH AMY BJORNSON, PT, ATP, SMS, PHYSIOTHERAPIST (SUNRISE MEDICAL)
Join us for a Quickie Masterclass in complex powered mobility. We'll:
Go beyond the typical and address when standard features don't meet client functional need.
Look at more complex situations including less typical power seating systems - such as standing, lateral tilt and anterior tilt.
Address complex access and programming issues. When a joystick isn't appropriate – what are the options and how do we best assess and evaluate what might work? How does that fit in with real world funding and assessment issues?
Develop strategies to maximize client potential via simple adaptations, programming and other drive control choices.
You'll leave this course excited to work with power wheelchairs!
IMPORTANT INFO TO REMEMBER
Date: 23rd July 2019 (Tuesday)
Time: 9:00AM - 1:00PM
Venue: Active Mobility Systems
Unit 8, 110 - 120 Silverwater Rd, Silvewater NSW 2128 (underground parking available)
Presenter: Amy Bjornson , PT, ATP, SMS, Physiotherapist
Light lunch will be provided on the day