SCIA Independence Expo
Author: Kristina Magathova Date Posted:7 April 2016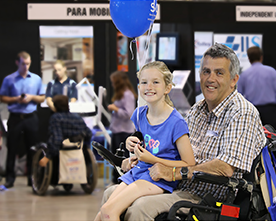 You are invited to the SCIA Independence Expo (Spinal Cord Injuries Australia), Australia's premier Expo for people with physical disabilities to Australian Technology Park in Sydney.
Discover more about living independently with spinal cord injury and other physical disability on the 15 and 16 April 2016. Register here and visit Active Mobility Systems crew at the booth 11 and 12.
Entry is free for everyone - people with physical disabilities, family, friends, carers and professionals and students in the disability sector.
The SCIA Independence Expo is the premier event showcasing an extensive range of lifestyle and disability products and services to empower people with physical disabilities to lead independent lives. Over two days the Expo will touch all aspects of people's daily lives, including social life, relationships, work and other aspirations.
Why to visit:
Exhibitors
SCIA will host over 60 exhibitors with Active Mobility Systems as their Gold Sponsor showing wide range of products and services, including assistive technology, mobility and home solutions, care and employment support, accessible travel and recreation and much more.
Workshops
Wide range of speakers that cover the NDIS, sector innovations, personal experiences… This year workshops will be live streamed from the SCIA Expo so people unable to attend can participate from home. register to attend the workshops online here.
Artists
Spinal Cord Injuries Australia will be incorporating an arts exhibition into the Expo. The exhibition will feature talented artists, Daniel Savage, Sue Murray, Susan Wood and Cobie Moore
Equipment demonstrations
Visiting SCIA you will get a chance to see wheelchair sports in action, learn about all things to do with the bladder and bowel.
Active Mobility Systems will present Power Mobility equipment, Assistive Technology equipment and many more. Visit our booth, 11 and 12 on Friday 15 and Saturday 16 April between 10am-4pm. Entry is free for both days.
Explore ways to enhance the lives of people with disability, with new products, equipment and technology on display.
REGISTER:
---
Leave a comment