Seating System - SPEX
Author: Kristina Magathova Date Posted:10 June 2016


Here at Active Mobility Systems we look after all aspects of people's disabilities. We provide positive solutions with power mobility products. Seating Systems including specialised arm supports, power wheelchairs and scooters and their additional support systems.

Correct configuration is important for all power mobility equipment. The most important specific is to understand correct seating systems and their effects on clients. Poor posture and incorrect seating can lead to different types of back injuries, including scoliosis - spinal misalignment disease that affects people of all ages, but most likely school-age children, people in wheelchairs and elderly people…, kyphosis – known as a round back or hunchback - a condition in which the spine in the upper back has an excessive curvature.
Scoliosis, kyphosis and other postural issues can mostly be treated and managed at their early stage.
Postural issues can be prevented with a wide selection of seating and positioning devices for wheelchairs. Whether it's a custom made seating system SPEX or therapists' recommended JAY seating, all of our seating systems have stood the test of time due to the fact that we are use materials of the highest quality, patented designs, extensively researched and rigorously tested.
SPEX accomplishes what the seating clinician desires and what the user needs.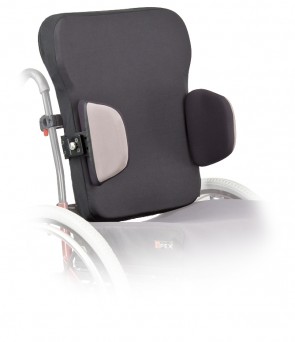 The main Spex features include:
Clinically appropriate seating choice
Ease to use from installation to completion
Solves clients seating needs in minimal time
Standard sizes from 10" paediatrics to large adults
Modular flexibility to solve any seating situation
Customisable to suit any postural issues
Installs on virtually any wheelchair base
Breathable for temperature control
Transport certified
Spex will create personal backrest, headrest, seat pan, cushions and other supports to meet clients criteria. It has been developed to meet a wide range of different seating needs for wheelchair users. Spex Seating System offers what patients and clients need - specific postural characteristics to wheelchair user's.
How SPEX works for client and clinician
Faster – results in less time, adjustments made quicker
Modular – Add or remove accessories at any time
Sustainable – Designed and built to last
Easy – designed to be easily installed and adjusted by anyone, not just the techs.
Spex provide enhanced comfort and postural alignment to users as it is suitable for those in short or long term sitting positions with function and dependable postural stability from supports that do not bend or go out of adjustment. No matter what postural difficulties you face in your life with SPEX Seating System there is always a solution that fits your needs.
---
Leave a comment