Sensory Stimulation
Author: Kristina Magathova Date Posted:30 November 2015


Parental behaviour often has greater impact on our children than we even realize. Children perceive, feel and see adults' nervousness, their anxiety, fear, problems. They are very easily influenced by these symptoms. This kind of feedback and lifestyle can instigate attention disorders and behavioural issues.
According to research, many restless children suffer from Attention Deficit Disorder (ADHD). One of the most recognisable neurologists Bruce Perry says that it would be necessary to look for other reasons for children's failure that are diagnosed with ADHD. If we think about it, we realize that each of us will, at some point, fit into some of the symptoms or criteria that are so typical for ADHD.
Typical symptoms of ADHD are hyperactivity, impulsiveness and inattention. They tend to present in early childhood.
Children typically have limited attention spans but some small children will play with an item for less than others of the same age. From one toy to another - any disruptive external stimuli will distract and take attention.
Another common symptom of attention disorder is hyperactivity. This child cannot stay still in the same place - always crawling, running away. At school at inappropriate times without teacher guidance he finds himself out in the playing area. Children with ADHD are often in awkward situations - talking with others, shouting, interrupting, making unusual noises, etc.
The third characteristic of ADHD is impulsivity. These children are unable to listen till the end of guidance for certain activities. This often results in errors due to carelessness and rashness. Injury can result when they do not evaluate destructive effects to their health.
How can we treat hyperactivity and children's' impulsiveness?
Protac has developed a range of products containing balls which, thanks to the deep touch-pressure and constant contact to the body's surface, activate the sense of touch and the sense of body position and movement. Different products contain different weighted balls that stimulate children's sensory system having a calming effect. If you are feeling impatient, you may fidget on the chair or tap one of your feet – both everyday examples where we use our sense of movement to calm ourselves down. When the weight of the balls in Protac products offers resistance to the body's joints and muscles, a message is sent to the nervous system, which the brain registers as movement. This is why the Protac balls have a calming effect.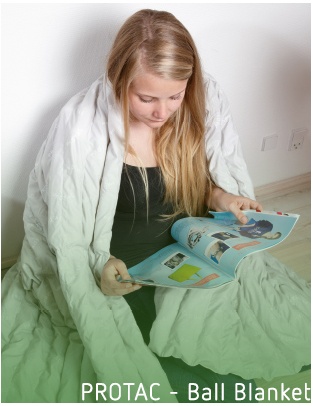 These sensory stimulation products help not just persons with ADHD, but also those suffering from abuse, anorexia, autism, brain damage, dementia, depression, multiple sclerosis, neurological disorders, sleep disorders and many others.
Protac products help not just children, but anyone suffering from mental and motor restlessness, concentration, balance, sensibility or sleep disorders.
It is not just parents, but everyone's obligation to be a good example to children and youth. It is our obligation to set goals that children can achieve and have realistic expectations of our children. That is how we can minimize many of the problems for the child diagnosed with ADHD. Reduced negative experience in childhood will eliminate many causes of dysfunction in adulthood.
Active Mobility Systems offers you PROTAC products for trial in order to see how they work in real life situations. Contact us by filling in the form and we will schedule your appointment.
---
Leave a comment