A Buyer's Guide to Patient Lifting Hoists
Author: Kristina Magathova Date Posted:17 July 2018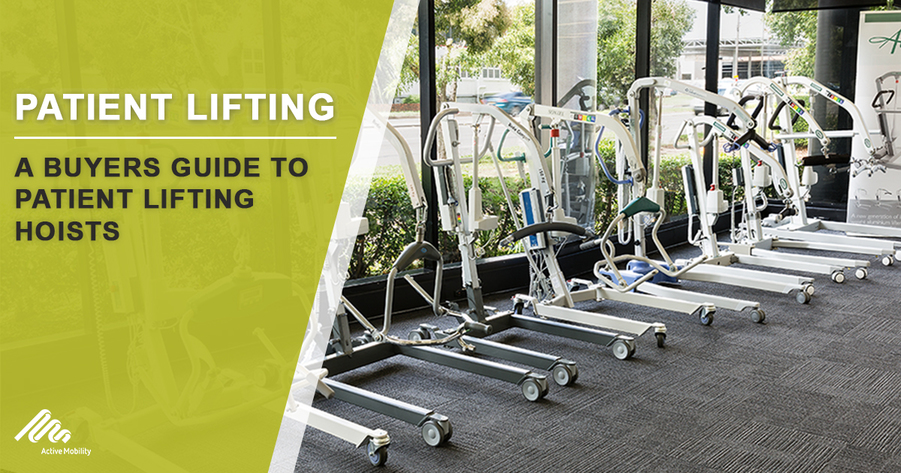 Patient lifts are a helpful tool not only for the patients themselves but also for their relatives and carers who look after them. Such devices aid in a patient's transfer and at the same time reduce the risk of injury and back pain among the respective carers, who would otherwise have to manually lift the patient.
There are different types of patient lifts available in the market. Before making a purchase, one must first understand the different features and functions of the three main types of patient lifts.
Floor Hoists for Residential Use
Among the most popular patient lifting options, ideal for home use is the mobile floor hoist. It provides assistance for differently abled people to safely move around the house. Our range of floor hoists are entirely safe and recommended for use by seniors who want to remain in their own homes despite mobility limitations. Floor hoists are likewise a good option for people with disability who are unable to fully elevate themselves.
We carry a range of Australian-made and imported floor lifts that have a more than adequate working load capacity and are made of lightweight, high-quality products to ensure long-term service. As such, our lifts are ideal for everyday use. The Atlas 250, which is a good choice for bariatric patients, and the Ares floor hoist, made by trusted brand Allegro, are just two examples of our floor hoists.
Our range of standing hoists enables quicker, easier and safer patient lifting and transfer for both the carer and the patient. These tools are designed to help patients who have trouble standing up but can otherwise walk with little to no difficulty.
Active Mobility's standing hoists come in powered and manual options. The powered standing hoists run on batteries, while the manual standing lifts are ideal for patients who are more stable and just need the extra support.
Two of our best-selling standing hoists are the Salsa 200 and the MiniLift 160. The Salsa 200 helps people move from a seated position to a standing position, while the MiniLift 160 is a portable sit-to-stand hoist that provides full lower limb support.
For maximum mobility and to help move patients from one point of the house to another, we offer a range of safe, heavy-duty ceiling hoists. These lifts are installed on a gantry track system and can be detached if needed.
Our monarch fixed ceiling hoists come with a manual traverse or powered traverse with a loading capacity of 270 kilograms. One of the strongest ceiling hoists in our catalogue is the Prism C-380, which is specifically designed for the mobility needs of bariatric patients.
Trusted Mobility Partners in Australia
When it comes to portable patient hoists and lifts, Active Mobility Systems is a trusted supplier to homes, hospitals and senior communities. We cater to the mobility needs of the elderly and to the needs of those with various types of disabilities, regardless of their age. Our catalogue comprises high-quality products sourced only from renowned global brands in the special needs sector.
As a trusted company, we are a registered provider of the National Disability Insurance Scheme (NDIS), a service which stems from our advocacy and commitment to effectively respond to the needs of our differently abled neighbours.
Talk to one of our representatives, today, for the best mobility products for your specific requirements. Contact us, today.
---
Leave a comment