Safety Tips for First-time Drivers of Mobility Scooters
Author: Kristina Magathova Date Posted:31 July 2018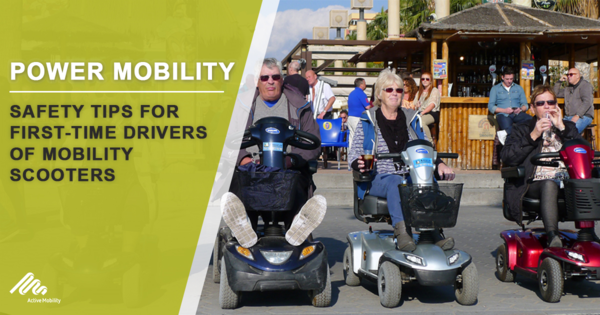 A mobility scooter allows patients with disabilities to move around easily and carry out everyday activities, such as shopping or going to the park. For new mobility scooter users, it is important to learn about the safety precautions when driving the vehicle in public.
Here are some tips to get you started:
Schedule a Medical Exam
Before purchasing a scooter, consult with your doctor or occupational therapist (OT) to confirm if you are physically and mentally capable of operating a mobility scooter. You will be checked for balance, sight, hand-eye coordination, concentration and arm strength. During the check-up, it's crucial to be truthful about your abilities. Stating inaccuracies and letting your therapist mistakenly believe that you are physically and mentally equipped to drive the scooter can result in serious risks.
Choose the Right Mobility Scooter
Carefully choose the best mobility scooter for you. You are likely to encounter sellers who are more interested in closing a sale than providing you with the product that best meets your essential needs. The smartest way to determine the best equipment is consulting your care provider. Your doctor or OT can advise you on which scooter type best suits your capabilities.
Take a Test Drive
Once you purchase your scooter, practising manoeuvres in various situations is the next safety step. Steer clear of street signs, light poles, store racks and other obstructions. Mastering how to drive your scooter will keep you, as well as pedestrians, out of harm's way.
Make Sure You're Visible
A scooter painted cherry red shines in the sun; however, it is difficult to see at night. For this reason, most scooters are equipped with lights and indicators; also reflective strips ensure your scooter is easily seen at night. At least two reflective lights or strips will make your scooter more visible than having one small light or strip. Being visible at night causes others to slow down and take precaution.
Maintain Your Scooter
One of the most important safety precautions is maintaining your scooter. A professional technician gives you the assurance that the tyres are in good condition, the lights are working properly and the battery is functioning well. Developing a good relationship with a scooter technician ensures that you can rely on them to assess your scooter and recommed any necessary repairs.
Get Quality Scooters from Us
If you're looking for the right scooter, you've come to the right place. Active Mobility has a wide range of electric scooters for the elderly. Our range includes general purpose scooters, compact scooters and bariatric scooters.
We source our scooters from the world's most reliable manufacturers, such as Invacare, Shoprider and Pride Mobility. Every scooter we offer features ease of operation, durability, safety and comfort. If you are looking for a reliable technician, we also offer services and repairs for our scooters. Our service technicians are trained in repairing and servicing a wide range of mobility equipment. As we are NDIS service and equipment providers, you may enjoy partial to full NDIS funding to access our products and services.
To view our scooters first-hand, visit our showroom at Unit 8, 110-120 Silverwater Road.
---
Leave a comment