Custom Made High Quality Healthcare Beds and Mattresses
Author: Kristina Magathova Date Posted:9 July 2018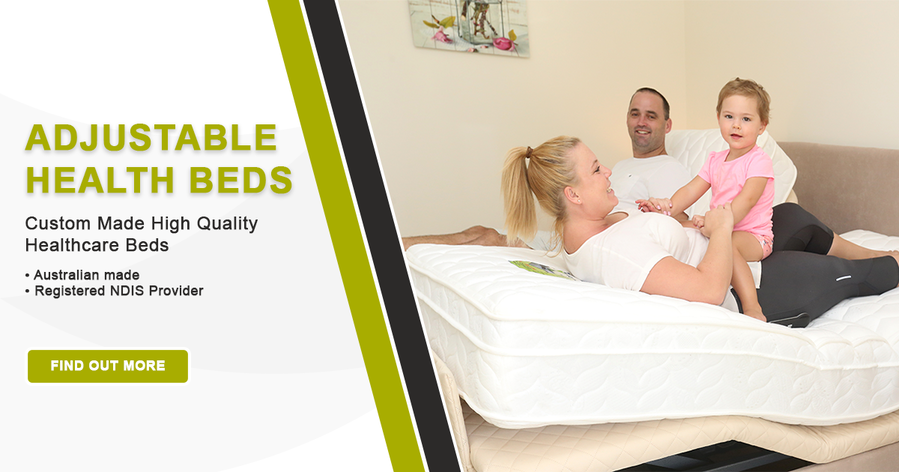 One size does not fit everyone. By listening to clients and their carers or Occupational Therapists we know sleep deprivation is a terrible thing. Many of them have been looking for help for many years and by bringing ideas and experience to the table we are able to customize and build that perfect bed or chair.
The product range includes:
The Adjustable Healthbed provides the highest levels of luxury in a custom made, adjustable electrical bed. If you're looking for an affordable option, ideal for in home care, then our Adjustable Healthbed ticks all the boxes. And it comes in the full range of sizes from a small single to a king size.
The HiLo Healthbed delivers everything you could look for in an affordable, custom made, adjustable electrical bed. It's absolutely perfect for in home care, or anyone looking for an in-home Hospital Bed. You can transfer from a wheelchair in and out of bed much more easily by simply adjusting the height with the wireless remote control (no more wires hanging overhead and potentially disturbing your sleep). And it makes everyday tasks, such as bathing, eating, and taking medication MUCH easier for a carer or family member to manage since it has been specifically designed to suit your needs, regardless of height, weight, or size.
The bed is made up of two of our healthbeds bracketed together—in fact, you can use any combination from our extensive and affordable product range. Because the Dual Adjustable Healthbed is made up of two beds from our impressive range, they come packed with all our fantastic adjustable bed features.
Bariatric Chairs are custom-built to the specifications of each individual client. If you're looking for a standard small, medium or large chair, you've come to the wrong place – as our friendly, professional team takes comfort to a whole new level. Specifically designed for you and your own personal health issues, our team incorporates measurements of your feet, legs, hips and back height when the chair is made – for a perfect fit.
Offering superior comfort and improved lifestyle, regardless of your physical requirements, Novacorr chairs will ensure there is no discomfort and no incorrect pressure areas. Having your own custom-made chair reduces the risk of shoulder strains and hip displacement, while helping to alleviate circulation problems and water retention.
Novacorr's chairs are unlike any other Bariatric chair, they are built to stay in a seated position as they recline. This allows for the client's feet to be elevated to a position whereby they are parallel with the heart. This will automatically help reduce swelling of the feet and legs, while boosting circulation. When the chairs are reclined, they have a break in the knee area, so when a client is lying down their knees are not locked at any point. A second motor can also be fitted, which essentially turns the chair into a sleeping chair. The second motor enables the user to alter the back position without having to change the location of their legs.
Built to hold the weight of up to 400kg, this chair is made for comfort and longevity.
Tilt and Lift Chairs are custom-built to the specifications of each individual client, providing armchairs that are extremely comfortable. This affords our clients with a relaxing and snug home environment. By investing in a chair suited to your exact healthcare needs, you're making a positive lifestyle choice that will help ease discomfort for not only yourself but the family. Novacorr's Lift Chairs are made to measure, including length, width and height which will avoid any pressure areas. A custom-made chair helps reduce the risk of further physical strain whilst helping to alleviate circulation problems and water retention.
Each chair frame is upholstered in a selection of Dunlop memory foam, finished with your choice of fabric.
No two chairs are the same given that the seating area is tailored to your shape only. The use of Dunlop memory foam reduces the risk of seat sinking or sagging which means you'll enjoy your armchair for longer. We've also added three inches of memory foam in the footrest to reduce any pressure discomfort. Your chair is covered in the fabric you choose from our range of leading Warwick, Windsor or Profile brand fabrics which allows your investment to keep its value for years to come.