Top 5 Popular Mobile Shower Commodes
Author: Kristina Magathova Date Posted:11 September 2018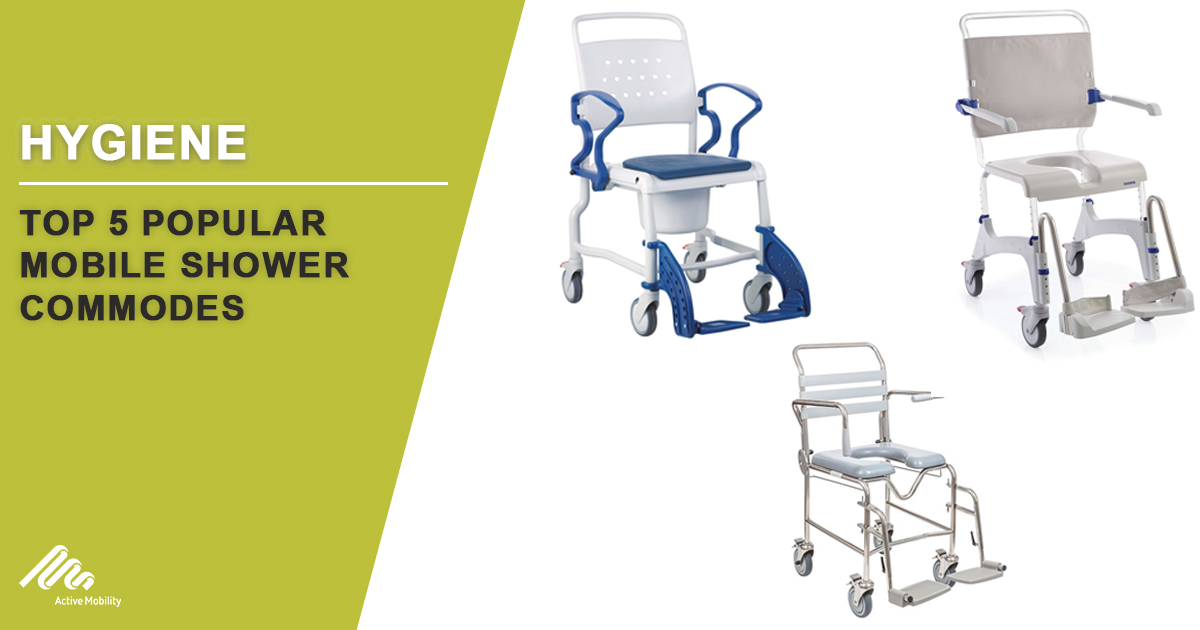 A mobile shower commode allows users to go to the toilet or showering without having to get up from sitting down. It allows them to do personal hygiene efficiently and with dignity. Mobile shower commodes also prevent injuries to carers as they can otherwise strain their back trying to lift their patient or slip on wet floors.
The majority of shower commodes are simply shower seats that have wheels on them along with arms that can either be adjusted or fixed, to help with transfers. Some would have commode bowls for toileting purposes. Mobile shower commodes are generally made from either plastic or stainless steel to ensure that they last for long periods of time without breaking down and also have padded seats for added comfort.
Understanding this let's look at the top five popular shower commodes that we have in our wide range of hygiene products.
One of our low-cost mobile commodes, the Bonn attendant propelled shower commode is made from a strong durable synthetic material. That material is light-weight, rust free and can be easily cleaned making it great for infection control.
Furthermore the mobile commode is chemical resistant and able to be cleaned by all leading brands of antibacterial products and steam. Designed and manufactured in Germany to a very high standard it assists in the transportation of the patient for showering.
Featuring removable pan and lad as well as padded seat cover that conceals the plastic toilet seat. The swingback arms are used for side transfers and it has an ergonomically shaped backrest and push handle. To assist in transportation two of the four castors can be locked with one rear directional-locked.
Available in three different models. the Aquatec Ocean comes standard with an integrated pan holder and commode bowl. The attendant propelled and tilting models are mounted on four 125mm stainless steel locking castors while the self-propelled model is mounted on two 125mm castors and two 24" rear wheels.
Made from durable powder coated stainless steel frame, it can be positioned over the toilet for toileting and it features a soft ergonomic seat that is height adjustable, removable and easy to clean. It can be positioned over the toilet for toileting and the backrest's tension can be adjusted along with the swingaway legrests' height to suit the individual's needs.
Made from durable stainless steel and with PVC slatted backrest the Juvo features swingback arms for side transfers, adjustable height swingaway legrests and a padded commode seat, with the front available as either open or closed. It is mounted on four 125mm castors, two of which can be locked to make it easier for carers and patients to do transfers.
The tilt mechanism on this commode provides the optimal patient positioning and improves the working posture for carers. It can tilt between 10o to 35o and can lock in various tilt positions. Featuring a padded commode seat, with either an open or closed front, as well as an integrated side frame opening for increased carer access.
Other features for this commode includes a padded swingback arms for side transfers, tall removable PVC slatted backrest and adjustable height swingaway legrests with calf supports. It is also made from durable stainless steel frame it is mounted on four 125mm locking castors.
Featuring swingback arms for side transfers along with adjustable safety arms for additional security this shower commode has a unique feature in that it has an unobstrusive mechanism designed to prevent skin tears. It also has a padded commode seat and armrests that can be positioned at two different heights. There is also a removable PVC slatted backrest, two 125mm stainless steel castors and two 22" rear wheels.
Trusted Mobility Partners in Australia
When it comes to hygiene products, Active Mobility Systems is a trusted supplier to homes, hospitals and senior communities. We cater to the mobility needs of the elderly and to the needs of those with various types of disabilities, regardless of their age. Our catalogue comprises high-quality products sourced only from renowned global brands in the special needs sector.
As a trusted company, we are a registered provider of the National Disability Insurance Scheme (NDIS), a service which stems from our advocacy and commitment to effectively respond to the needs of our differently abled neighbours.
Talk to one of our representatives, today, to find the best products for your specific needs. Contact us, today.