Gantry System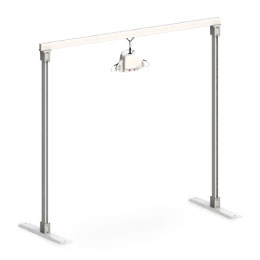 Ceiling Hoist Gantry System or also known as portable ceiling lift offers a temporary solution and an alternative hoisting system where installing track into the ceiling is not possible.
Because of its easy manouverability, ceiling hoist gantry system are great for travelling or as a temporary solution for homes, nursing homes, clinics, hospitals, schools…
For hygienic reasons Active Mobility does not hire out lifting Sling. Slings might be purchased separately (Disposable slings available $45)
Available for hire from Active Mobility Systems. Contact Hire department.
Make and models of hire items may vary depending on availability. Price will vary depending on model.